25 May

Summer Beauty Essentials

Just like your wardrobe, an effective beauty regimen requires seasonal refreshes to really make an impact. Ahead are our choices for the hair and skin products that take your summer look to the next level—no matter where summer takes you.

1. Aveda Daily Light Guard Defense Fluid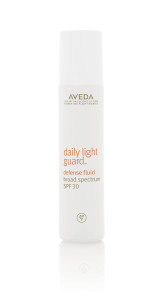 We're going to go out on a limb here and assume that you haven't yet found the perfect daily SPF option. There are too many variables: the wrong ones can be overly greasy, laden with chemicals, or prone to leaving a ghostly white cast. Well, we're happy to report that all that ends now. This Aveda newcomer packs a one-two punch of 100% mineral-derived sunscreens and plant-derived antioxidants to ward off sun damage and free radials alike. Plus, it's non-acnegenic and sits like a dream under makeup. What's not to love?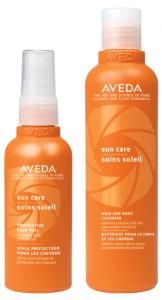 2. Aveda Sun Care Protective Hair Veil
If you're anything like most people, you wouldn't dare venture out without SPF on your face—but probably don't feel the same way about your hair. Unfortunately, though, the sun can wreak some serious havoc on your tresses, including fading your color and contributing to dryness and damage. Snag this A+ product to protect your hair from sun exposure for up to 16 hours and fight free radicals with a vitamin E-heavy antioxidant blend.
3. Aveda Sun Care Hair and Body Cleanser
This clarifying shampoo belongs in everyone's summer rotation. Gentle but effective babassu-derived cleansers remove the sunscreen, sea spray, and chlorine residue that all the best summer days leave behind, while added plant oils help moisturize and condition tired strands. It also contains corn-derived chelator to help remove the minerals found in pool water that can give lighter hair a much-unwanted greenish tint. Praise the sun gods!
4. Aveda Shampure Dry Shampoo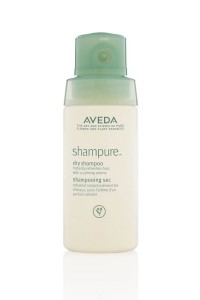 It's not a spray. Repeat: it's not a spray. Aveda seriously delivered on the innovation front when they introduced this non-aerosol product this year, which is activated when you squeeze the flexible bottle to puff powder dry shampoo into your hair. We love this as a post-beach/touristing, pre-dinner refresh product. Bonus: the scent is heavenly, and it never seems to run out. (Though if it does, the refillable packaging makes replacement easy, cost-effective, and environmentally sound.)
5. Aveda Botanical Kinetics Skin Firming/Toning Agent
This brightening, rosewater-based toner is a longtime favorite of Aveda fans and Aveda pros alike. It's light and not at all sticky, and although it's traditionally used post-cleansing, we love stealing a quick spritz after swimming, sweating, or being in the sun. Pro Tip: store it in the fridge to take your mini-refresh to the next level.
Bon voyage, happy beaching, and enjoy the sunshine! We hope this summer is your best one yet.